SS Fittings Stockist & Stainless Steel Pipe Fittings Suppliers Uae
ASME/ANSI B16.9 Fittings Suppliers in Uae - Randhir Metal Manufacturer & Supplier of ASTM A403 Stainless Steel Pipe Fittings, 304/316 Threaded, High Pressure Forged, Socket & Butt Weld Fittings
ASTM SA403, Stainless Steel Pipe Fittings, DIN 1.4438, High Pressure, Forged Fittings, Socket weld fittings, UNS, S31600, S31603, S31703, Buttweld Fittings, 304, 310, 310S, 317L, 316, 321, 347, Werkstoff No 1.4438, ANSI, ASME, B16.9, B16.28, MSS-SP-43, Equal Tee, Un-Equal Tee, Equal Cross, Un-Equal Cross, Half coupling, Full coupling, Threaded Elbow, Forged Tee, Pipe Nipple, Reducers, Coupling, Bushing, Elbow, Tee, Union, Cross, Swage Nipple, Coupling, CAP, Plug, Bush, Sokolet, Weldolet, Thredolet, Elbolet, Nipolet, 45 degree Elbow, 90 degree Elbow, Price List, manufacturers, suppliers, exporters, distributors, traders, stockholder, wholesaler, importers, manufacturer, supplier, exporter, distributor, trader, stockist Uae
Stainless Steel Buttweld Fittings Price | Stainless Steel 304/ 304L/ 304H Forged Fittings Suppliers | SS 316 Buttweld Pipe Fittings Suppliers UAE| Stainless Steel Buttweld Pipe Fittings | 304 SS Buttweld Pipe Fittings Suppliers| 316/ 316L/ 316H SS Forged Fittings Suppliers | Stainless Steel Forged Fittings Manufacturers | ASTM A403 Stainless Steel Forged Fittings Suppliers UAE | 316L Stainless Steel Buttweld Pipe Fittings | Stainless Steel 304l Buttweld Pipe Fittings| Stainless Steel Forged Fittings Suppliers UAE | 317L Stainless Steel Buttweld Pipe Fittings Suppliers |316 Stainless Steel Buttweld Pipe Fittings Suppliers| Stainless Steel 317/ 317L Forged Fittings Suppliers UAE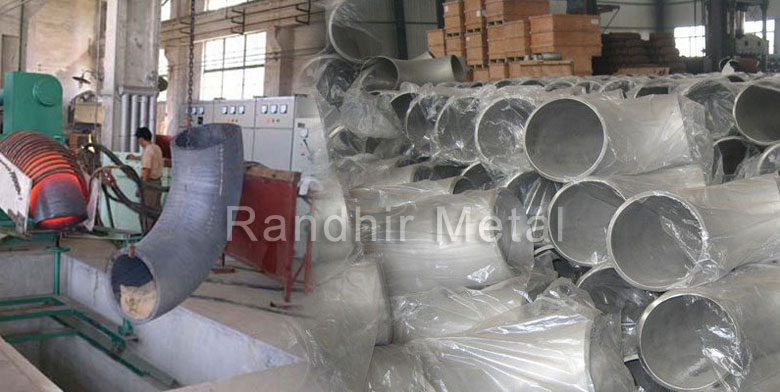 Stainless Steel Pipe Fittings in our Stockyard
Randhir Metal is a Higly Acclaimed manufacturer & supplier of Stainless Steel forged fittings, Stainless Steel pipe fittings for end-users in UAE, stockists and package specialists worldwide. Randhir Metal founded in 2001, is the specialist in the production and export of a wide range of pipe fittings in carbon steel, high yield, alloy steel, stainless steel, duplex, super duplex, nickel alloys and other exotic materials. Stainless Steel forged fittings manufactured in accordance with B16.11.

Randhir Metal is a leading global manufacturer engaged in manufacturing and supplying Stainless Steel Butt Weld Pipe Fittings, Carbon Steel Butt Weld Pipe Fittings & Alloy Steel Butt Weld Pipe Fittings in UAE. View our large selection of butt weld fittings. We can manufacture in a variety of dimensions that will fit your project needs. Request for Stainless Steel 321H Pipe FittingsPrice List today! Our Stainless Steel 316 Pipe FittingsSuppliers are Suitable to fit in piping systems that help to change direction, branching or diameter of pipe, we are offering a wide gamut of ASME B16.28 317L Pipe FittingsStock Holder. SS Buttweld fittings include fabricated fittings - for pipe lines that require something out of the ordinary. Fittings are available in a range of pressure ratings from PN4 upto PN25. We offer a broad range of services to compliment our extensive product range and ensure you always have the tools and fittings required to complete your projects in the most economic and efficient way possible.
Types of Fittings
Having our own fleet of trucks enables us to supply ANSI B16.9 SS Welded Butt weld Pipe Fittings in more than once a week to areas such as:
| | |
| --- | --- |
| Dubai, UAE | Abu Dhabi, UAE |
| Sharjah, UAE | Al Ain,UAE |
| Ajman,UAE | Ras Al Khaimah, UAE |
| Fujairah, UAE | Um Al Quwain, UAE |
| Khor Fakkan, UAE | Dibba, UAE |
| Tapaktuan, UAE | Tebing Tinggi, UAE |
| Pekanbaru, UAE | Padang Panjang, UAE |
| Solok, UAE | Dumai, UAE |
Our company has scaled incredible heights in business owing to its innovative products.As a result to that success our export account today is in Indonesia, Malaysia, Singapore, United Arab Emirates, Saudi Arabia, Iraq, Iran, Oman, Qatar, Nigeria, South Africa, United States of America, Canada. Our team strives to lead our peers in providing value-added services and support to our clients throughout Saudi Arabia.We Will Deliver Immediately!

UAE Projects and Client Reference List
| | |
| --- | --- |
| Project Name | Address |
| Afaq Recruitment & Manpower Supply Services UAE | Jln. Arga Kelud Blok A2 No. 10 Kompleks Arga Bajapura Kec. Grogol – Cilegon – Banten, UAE |
| Onshore Petroleum Operations Ltd. (ADCO), UAE | ADCO Building, Corniche Street, Corniche, Abu Dhabi City, Abu Dhabi Landmark: ADCO, UAE |
| Crystal Land General Contracting | Office # 15, Mussafah (M-37), Mussafah, Abu Dhabi Landmark: Behind Fresh & More Supermarket, UAE |
| Aban Loyd Chiles Offshore Ltd | Al Wasl, Jumeirah, P.O.Box: 333956,UAE |
| ABB Process Solutions & Services | Abu Dhabi P.O.Box: 34138, Abu Dhabi,UAE |

Size Range:  1/8" NB TO 48" NB. (Seamless & 100% X-Ray Welded, Fabricated)
Thickness: SCH: 5s, 10s, 40s, 80s, 10, 20, 40, STD, 60, 80, XS, 100, 120, 140, 160, XXS, Custom Thickness
Stainless Steel Buttweld Pipe Fittings: ASTM A403 WP 304/ 304L/ 304H/ 316/ 316L/ 317/ 317L/ 321/ 310/ 347/ 904L/2205 Duplex Fittings
Manufacturing Specification: ASME: ANSI B16.9, ANSI B16.28, MSS-SP-43, DIN: DIN2605, DIN2615, DIN2616, DIN2617, DIN28011, EN: EN10253-1, EN10253-2
Stainless Steel Forged Fittings Manufacturer in India, ANSI B16.11 Socket Weld and Threaded Fittings Supplier Uae
Stainless Steel – ASTM A182 F304, F304L, F306, F316L, F304H, F309S, F309H, F310S, F310H, F316TI, F316H, F316LN, F317, F317L, F321, F321H, F11, F22, F91, F347, F347H, F904L, ASTM A312/A403 TP304, TP304L, TP316, TP316L
High Pressure Socket Weld Forged Pipe Fittings Suppliers Uae
| | |
| --- | --- |
| Pressure Class | 3000LBS, 6000LBS, 9000LBS |
| Socket Weld Forged Fittings Products | Elbow 90 Degree, Elbow 45 Degree, Tee, Cross, Union, Coupling, Half Coupling, Cap, Boss, Outlet, Welding Outlet, Insert |
| Dimension Specifications | ASME 16.11, MSS SP-79, 83, 95, 97, BS 3799 |
| Size | 1/8″~4″ (DN6~DN100) |
| | |
| --- | --- |
| Pressure Class | 3000LBS, 6000LBS, 9000LBS |
| Threaded Forged Fittings Products | Elbow 90 Degree, Elbow 45 Degree, Tee, Cross, Union, Street Elbow, Coupling, Half Coupling, Reducing Coupling, Cap, Hex Head Bushing, Hex Head Plug, Square Head Plug, Round Head Plug, Bull Plug, Boss, Outlet, Hex Nipple, Swage Nipple |
| Dimension Specifications | ASME 16.11, MSS SP-79, 83, 95, 97, BS 3799 |
| Size | 1/8″~4″ (DN6~DN100) |
Stainless Steel Pipe/Tube Fittings Manufacturing Standards
ASTM A182 – ASME SA182 – Standard Specification for Wrought Austenitic Stainless Steel Piping Fittings
ASME B16.9 – Factory-Made Wrought Buttwelding Fittings
ASME B16.11 – Socket Welding and Threaded Forged Fittings
MSS SP-43 – Wrought and Fabricated Butt-Welding Fittings for Low Pressure, Corrosion Resistant Applications
MSS SP-95 – Swage(d) Nipples and Bull Plugs
BS3799 – Specification for Steel pipe fittings, screwed and Socket-welding for the petroleum industry
Stainless Steel Pipe Fittings Stockist Uae
| | |
| --- | --- |
| Specification | ASTM A182 / A403 & ASME SA182 / SA403 |
| Grades | 201, 202, 304, 304L, 304H, 309S, 309H, 310S, 310H, 316, 316TI, 316H, 316L, 316LN, 317, 317L, 321, 321H, 347, 347H, 904L |
| Type | Seamless / Welded / Fabricated |
| Bending Radius | R=1D, 2D, 3D, 5D, 6D, 8D, 10D or Custom |
| Range | ½"NB to 48″NB in Sch 10s, 40s, 80s, 160s, XXS. |
| Dimensions | ANSI/ASME B16.9, B16.28, MSS-SP-43.  |
Buttweld Stainless Steel Pipe Fittings Dealers & Distributors Uae
Seamless/Welded 100% Radiography Tested
Products
Size
Stainless Steel Elbows – Long Radius
Stainless Steel Stub Ends

Sizes 1/2″ – 48″

Stainless Steel Elbows – Short Radius
Stainless Steel Crosses
Stainless Steel Reducing Elbows
Stainless Steel Reducing Crosses
Stainless Steel 45° Elbows
Stainless Steel 180° LR Return Bends
Stainless Steel Tees
Stainless Steel 180° SR Return Bends
Stainless Steel Tees
Stainless Steel Pipe Bends / Piggable Bends
Stainless Steel Reducers
Stainless Steel Couplings
Stainless Steel Concentric Reducers
Stainless Steel Pipe Nipples
Stainless Steel Eccentric Reducers
Stainless Steel Forged/Plate Cut Rings
Stainless Steel 3D Elbow
Stainless Steel End Caps
Stainless Steel 5D Elbow
Stainless Steel Forged / Plate Circles
High Pressure Forged Stainless Steel Pipe Fittings Wholesalers Uae
Threaded and Socket Weld Pipe Fittings
Products
Size
Stainless Steel 90° Elbows
Stainless Steel Couplings
Sizes 1/8″ – 4″
Pressure Ratings –
2000 LBS, 3000 LBS, 6000 LBS, 9000 LBS
Stainless Steel 45° Elbows
Stainless Steel Reducers
Stainless Steel Street Elbows
Stainless Steel Inserts
Stainless Steel Tees
Stainless Steel Caps
Stainless Steel Crosses
Stainless Steel Unions
Popular Stainless Steel Grades
| Grade | UNS Specification | Available Forms |
| --- | --- | --- |
| Duplex 2205 | S31803, S32205 | Plate, Sheet, Bar, Pipe & Tube (welded & seamless), Fittings, Welding Material |
| LDX 2101 | S32101 | |
| Super Duplex 2507 | S32750 | Plate, Sheet, Bar, Pipe & Tube (welded & seamless), Fittings |
| Zeron 100 | S32760 | |
| Duplex 2304 | S32304 | |
| AL-6XN | N08367 | Plate, Sheet, Bar, Pipe & Tube (welded & seamless), Fittings, Welding Material |
| 904/L | N08904 | |
| 254 SMO | S31254 | |
| 253 MA | S30815 | Plate, Sheet, Bar, Pipe, Welding Material |
| 321 | S32100 | Plate, Sheet, Bar, Pipe & Tube (welded & seamless), Fittings, Fasteners Nut bolts, Welding Products |
| 409 | S40900 | |
| 330 | N08330 | Plate, Sheet, Bar, Pipe (welded & seamless), Fasteners Nut bolts, Welding Products |
| 347 | S34700 | Plate, Sheet, Bar, Pipe & Tube (welded & seamless), Fittings, Fasteners Nut bolts, Welding Products |
| 309/S | S30900/S30908 | Plate, Sheet, Bar, Pipe & Tube (welded & seamless), Fasteners Nut bolts, Welding Products |
| 310/S | S31000/S31008 | Plate, Sheet, Bar, Pipe & Tube (welded & seamless), Fittings, Fasteners Nut bolts, Welding Products |
| 317/L | S31700/S31703 | Plate, Sheet, Bar, Pipe & Tube (welded & seamless), Fittings, Fasteners Nut bolts, Welding Products |
| 304, 304/L | S30400, S30403 | Plate, Sheet, Bar, Pipe & Tube (welded & seamless), Fittings, Fasteners Nut bolts, Welding Products |
| 304H | S30409 | |
| 316/L | S31600, S31603 | Plate, Sheet, Bar, Pipe & Tube (welded & seamless), Fittings, Fasteners Nut bolts, Welding Products |
| 316H | S31609 | |
| 333 | N06333 | Plate, Sheet & , Fasteners Nut bolts, Welding Products |
| 410/S | S41000, S41008 | |
| 430 | S43000 | |
| 15-5PH | S15500 | |
| 17-4PH | S17400 | |
| 17-7PH | S17700 | |
| Alloy 20 | N08020 | Plate, Sheet, Bar, Pipe & Tube (welded & seamless), Fittings, Fasteners Nut bolts, Welding Products |
Stainless steels can generally be categorized into 7 categories:
Ferritic Stainless Steels
Austenitic Stainless Steels
Martensitic Stainless Steels
Duplex Stainless Steels
Precipitation-Hardening Martensitic Stainless Steels
Superaustenitic Stainless Steels
Superferritic
Stainless Steel Pipe Fittings in UAE
stainless steel pipe fitting,elbow,clamp,tee,reducer,cleaning in UAE
US $1-10 / Piece
Asme B16.11 A105 Forged Tees/Elbows/Reducer, Forged Pipe Fittings in UAE
$0.95 - $1000.0 / Piece
304 316 stainless steel sanitary tri clamp pipe fitting in UAE
US $1.1-50 / Piece
321 stainless steel pipe fitting in UAE
US $2500-3500 / Ton
Large diameter 304 stainless steel pipe fitting in UAE
US $1-100 / Piece
Supplier Water stainless steel pipe fitting in UAE
US $0.65-8 / Piece
stainless steel elbow /stainless steel pipe fitting in UAE
US $700-1200 / Ton
brass stainless steel pipe fittings in UAE
US $0.1-0.5 / Piece
SS 304/316 Stainless steel pipe fitting in UAE
US $0.11-0.12 / Piece
BSP / NPT Threaded Screwed Stainless Steel Pipe Fitting Union / Elbow in UAE
$0.95 - $1000.0
stainless steel NPT threaded 90 degree elbow pipe fitting in UAE
US $2.5 / Pieces
female threaded 90 degree 3 way stainless steel elbow pipe fittings in UAE
US $2.6-9.6 / Piece
high quality forged 90 degree carbon steel elbow stainless steel pipe fitting in UAE
US $1-20 / Piece
Stainless Steel Pipe Fitting Butt welded Cap in UAE
US $1.2 / Bag
Different Types Stainless Steel Pipe Fittings in UAE
US $0.16-0.99 / Piece

Stainless Steel Buttweld Pipe Fittings
ASTM A403 Stainless Steel Pipe Fittings suppliers in Uae

We are Manufacturers | Suppliers | Distributor | Stockholder | Wholesaler| Dealer | Stockist | Exporter | Importer in Uae
Are you looking for a special Stainless Steel Pipe Fittings Manufacturers? We offer Stainless Steel in different type of thickness, specification, grades and dimensions.(Origin: Indian Origin, European Origin, Japanese Origin, US Origin, Korea Origin, Thailand Origin, Taiwan Origin) in Uae.Stainless steel are cut to your specifications and supplied with complete set of mill test reports in Uae

Pipe Fittings Suppliers in Uae

Dealer, Distributor & Stockists of World's Top 10 Manufacturers of Stainless Steel Pipe Fittings / SS Pipe Fittings
| | | | | |
| --- | --- | --- | --- | --- |
| Melesi SS Pipe fittings, Italy | Metal far SS Pipe fittings, Italy | Raccortubi S.p.A. SS Pipe fittings, Italy | TecnoForge SS Pipe fittings, Italy | Ulma SS Pipe fittings, Spain |
| BENKAN Corporation SS Pipe Fittings, Japan | BKL- Thai Benkan SS Pipe fittings, Thailand | interfit- SS Pipe fittings | Lame S.r.l. SS Pipe fittings, Italy | Mega SS Pipe fittings, Italy |

Recent Job Opening in UAE
Receptionist for UAE
Resident engineers for UAE
Sales executives for UAE
Mechanical engineers for UAE
IT network engineers in UAE
Marketing Executives UAE
Tally Operator ,UAE
Customer support Executives For UAE
We also Supply Following Products in UAE
Buy Stainless Steel Pipe Fittings in UAE Contact
Randhir Metal And Alloys Pvt. Ltd
,
Today for a Special Discount offer... Call: +91-22-23805180, +91-9867815181
Email:
sales@randhirmetal.com